Internships
An important requirement of the sustainability major is for students to complete an internship (SUSTN 495). Through an internship students gain experience working alongside professionals and put into practice the concepts and principles of sustainability learned in the classroom. The internship requirement for the major involves students devoting 100 hours working at an internship site of their choice such as a campus organization, community organization, international organization, government agency, or business. In addition to the internship hours, students also complete several writing assignments about their internships and meet several times during the semester on campus with the other interns to discuss their learning experiences. Sustainability 495 is 3-unit a Credit/No Credit course.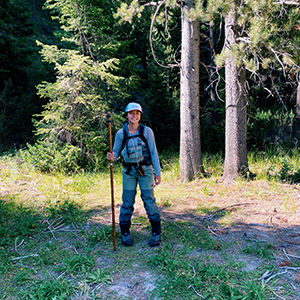 Hanna Chickering
Biological Science Field Technician, U.S. Forest Service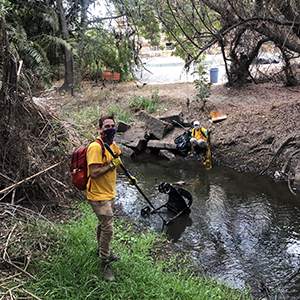 Shane Conta
Field Habitat Restoration Manager, San Diego River Park Foundation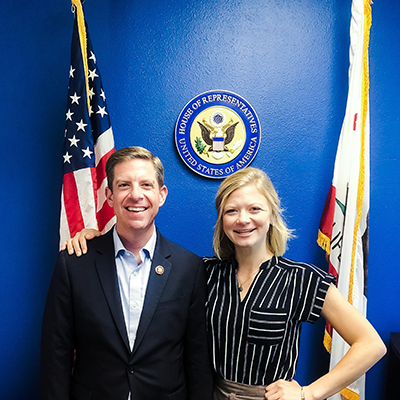 Courtney Ransom
Intern for Senator Mike Levin
Selecting an internship site
Students are free to select an internship site that suits their career goals. Previous sustainability students have interned at a wide variety of organizations that support work in sustainability such as corporations, non-governmental organizations, government agencies, or small businesses. Download the list for organizations that have hosted sustainability students.
Students are responsible for researching different sites for their internship, contacting people within the organization, and developing a learning plan with one of the learning site's personnel who can serve as the learning site supervisor or mentor. For more tools, information and tips regarding internships, contact SDSU's Internship Office in Career Services. To learn about any current sustainability internship opportunities, please visit our facebook page, our instagram page, or Sustainable SDSU's Careers & Internships page.

Learning Plan
To complete the learning plan, students need to develop, in collaboration with a learning site mentor they have identified in the organization, learning objectives. These learning objectives should then be linked to specific responsibilities that the student will be carrying out during the internship. Learning objectives might include:
Identifying the strengths and weaknesses of various actions for sustainability
Applying theory to determine the possibilities for sustainability in the region
Gaining exposure to sustainability issues in region through observation; evaluating sustainability from local, regional, and/or global scales
Developing the ability to act toward creating a more sustainable region
Communicating effectively about the meanings of sustainability in your life
Download the learning plan template.

Internship Requirements
In addition to 100 internship hours, students must submit the following to receive credit for SUSTN 495: 1) a learning plan (as described above), 2) an organizational introductory paper, 3) a reflective essay, 4) give a short presentation, 5) write a final internship experience report, and 6) secure an email or written letter from their onsite supervisors that verifies that the student completed 100 internship hours. All students must also participate in three class meetings that will be organized by the internship coordinator.

Internship enrollment process
To enroll in the internship students must 1) have their learning site internship mentor sign the learning plan, 2) submit their completed and signed learning plan (scanned and sent through email is acceptable) to the internship coordinator for their approval. They will then send the student the SUSTN 495 schedule number.
Students can enroll in SUSTN 495 up until the add deadline each semester (usually the second week of classes). The course does not have a enrollment cap so there is no need for students to rush their search for an internship. That being said, students should begin their search at least one to two months before they intend to register for SUSTN 495. Searching and securing an internship takes time and effort.
If the student for some reason does not complete the 100 internship hours or complete the other requirements for the internship, they will receive an incomplete for SUSTN 495 until the requirements are completed.
All questions regarding the internship process should be directed to the internship coordinator.

Internship/International Experience Coordinator
Savanna Schuermann
Office: AL-478
Email: [email protected]
Fall 2023 Office Hours: Wednesdays, 1:30-3pm and by appointment